New Indoor Air Quality Webinar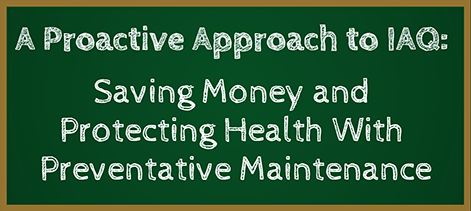 Thursday, November 9, 2017
1:00 p.m.-2:30 p.m. EDT
Webinar participants will learn how to:
Replicate the best practices of school district mentors to identify and implement the major components of an effective preventative maintenance program-proactive routine and regular maintenance and repair-to ensure that equipment and facilities perform reliably.
Integrate preventative maintenance and indoor air quality (IAQ) management strategies to save money and protect health.
Communicate the benefits of preventative maintenance practices in schools, such as a high return on investment, improvements in equipment longevity, and a reduction in unexpected and often costly repairs.
Develop a business case, a value proposition and a communication strategy that generate broader acceptance of, compliance with and funding for IAQ preventative maintenance strategies.
Learn from these experts!
Tracy Enger
Indoor Environments Division
U.S. Environmental Protection
Agency
Mary Filardo
Executive Director
21st Century School Fund
Washington, D.C.
Fred Remelius
Director of Operations
Upper Merion Area School District
Pennsylvania
The Importance of Preventative Maintenance There's power in prevention! Preventative maintenance and IAQ are closely related. Practicing preventative maintenance helps schools last longer, saves money and provides a healthier environment. A good preventative maintenance program of routine and regular maintenance and repair ensures that equipment and facilities perform reliably. This promotes equipment longevity and saves schools from unexpected, costly repairs. Postponing necessary repairs or system upkeep typically results in increased overall costs, increased unplanned repairs and increased risk of premature facility failure. The IAQ Tools for Schools Action Kit and Framework for Effective School IAQ Management provide resources focused on IAQ technical solutions and preventative maintenance procedures to help improve your school indoor environments.
Interesed in other IAQ webinars? The IAQ Knowledge-to-Action Professional Training Webinar Series comprises several 1-hour technical, core-competency, Web-based trainings that demonstrate how the knowledge gained in the IAQ Master Class Professional Training Webinar Series can be translated into actions that improve or sustain an IAQ management program within your school or school district. Learn from technical experts, industry leaders and model school districts during these webinars that are followed by 30-minute mentoring Q&A sessions. Gain recognition for your knowledge acquisition and commitment to action by receiving a certificate of completion for each training.
Register today!
Source: U.S. EPA