Impacts of Indoor Dust on K-12 Students
excerpt from recent publication
As winter approaches, students will spend more time inside exposed to indoor dust, a reservoir for allergens, chemicals, bacteria, and viruses. Exposure to indoor dust hazards in K-12 schools is particularly important as children ingest more dust compared to adults and are more vulnerable to potential health effects from dust exposure due to their developing neurological, immune, respiratory, and reproductive systems.Dust allergens in schools, including dust mites, cockroach, pet and mouse allergens, and mold, are well characterized and have been associated with aggravated symptoms of allergy and asthma, as well as increased wheezing, missed school days, and nights with lost sleep. This article will focus on chemicals in school dust, their sources, and exposure reduction strategies.
Chemical Composition and Impact of School Dust
Chemicals in dust originate from building materials and products such as carpeting, furniture, and school supplies. Over time, chemicals are released from these products into air and dust. Due to their widespread use, these chemicals are pervasive in residential and school dust. Students are exposed to chemicals through accidentally eating, breathing, or touching dust. Commonly found chemicals in school dust include legacy pollutants, such as asbestos and PCBs, as well as emerging chemicals, such as flame retardants, stain-repellent chemicals, and phthalates, which we will focus on below.
Flame Retardants
Flame retardants are endocrine-disrupting chemicals and neurotoxicants, and some are probable carcinogens.
Student exposure to flame retardants has been associated with poorer teacher-rated social skills.
Stain-Repellent Chemicals·
Per- and polyfluoroalkyl substances (PFASs) are widely used in products (e.g., upholstery, cookware, carpeting) for their stain- and water-repellent properties.
PFASs are endocrine disruptors, immunotoxicants, and probable carcinogens.
Phthalates
Phthalates are added to plastics to make them soft and flexible and are found in building materials (e.g., vinyl flooring, PVC piping), school supplies (e.g., vinyl binders), and cleaning products.
Phthalates are allergens and endocrine disruptors and have been associated with reductions in IQ scores, decreased attention, and conduct problems.
What Can Be Done to Reduce Exposures to Allergens and Chemicals in Dust?
To reduce exposure to allergens and chemicals in dust, you can remove their sources and implement strategies to reduce dust levels.
Remove Sources: Pet and Pest Allergens
Avoid feathered or furry classroom pets (e.g., birds, mice, rabbits).
Implement an Integrated Pest Management (IPM) program to address pests while reducing unnecessary use or overuse of pesticides.
Limit the number of stuffed animals and soft seating-sources of dust mites.
Remove Sources: Chemicals
Where possible, choose whole wood, glass, and/or metal furnishings over upholstered.
When necessary, choose naturally fire-resistant upholstery materials, such as wool (can be an allergen), hemp, or cotton, and ensure that they have not been treated with stain-repellent chemicals.
Avoid furniture with polyurethane foam.
Utilize PVC-free building materials and office supplies.
When appropriate, swap out carpeting for lower emitting flooring materials.
Reduce Dust Accumulation and Exposure
Employ vacuums with high-efficiency particulate air (HEPA) filters.
Mop and wet-dust surfaces using microfiber cloths-dry dusting spreads dust.
Wash objects that attract dust and dust mites (i.e., stuffed animals, pillows).
Decrease classroom clutter, which collects dust and makes it difficult to clean.
Promote frequent handwashing, especially before meals, to reduce exposure through hand-to-mouth contact.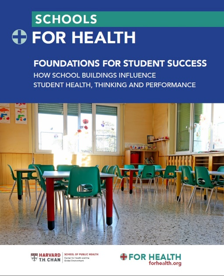 In 2017, the Healthy Buildings Team at Harvard T.H. Chan School of Public Health released the report Schools for Health: Foundations for Student Success, which clearly demonstrates that health is foundational to student thinking and performance. The report includes findings from more than 30 years of scientific research from over 250 research articles and more than 70 health and performance metrics on indoor environmental quality in schools.
Download full report which includes detailed case studies
Source: Emma Preston and Erika Eitland; Healthy Buildings Program at Harvard T.H. Chan School of Public Health